Notification emails are working properly again. Please check your email spam folder and if you see any emails from the Cantina there, make sure to mark them as "Not Spam". This will help a lot to whitelist the emails and to stop them going to spam.

Dismiss Notice

IMPORTANT! To be able to create new threads and rate posts, you need to have at least 30 posts in The Cantina.

Dismiss Notice

Before posting a new thread, check the list with similar threads that will appear when you start typing the thread's title.

Dismiss Notice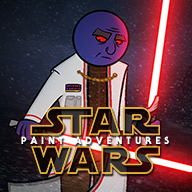 An interactive comic set in the new canon, it tells the tale of the Old Republic's final years through the viewpoints of five distinct characters, as each gets swept up in a dangerous game of galactic politics and underworld schemes. Shape the journey and decide the fate of our heroes together as a Star Wars fanbase, often in humorous ways.
Discussions:

1,951

Posts:

10,758

Discussions:

846

Posts:

32,685

Discussions:

698

Posts:

17,926

Discussions:

289

Posts:

8,636

Discussions:

552

Posts:

15,092

Discussions:

64

Posts:

1,107

Discussions:

900

Posts:

10,390

Discussions:

198

Posts:

3,544

Discussions:

347

Posts:

798

Discussions:

14

Posts:

4,112