IMPORTANT! To be able to create new threads and rate posts, you need to have at least 30 posts in The Cantina.

Dismiss Notice

Before posting a new thread, check the list with similar threads that will appear when you start typing the thread's title.

Dismiss Notice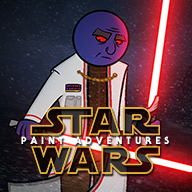 An interactive comic set in the new canon, it tells the tale of the Old Republic's final years through the viewpoints of five distinct characters, as each gets swept up in a dangerous game of galactic politics and underworld schemes. Shape the journey and decide the fate of our heroes together as a Star Wars fanbase, often in humorous ways.
Discussions:

664

Posts:

4,649

Discussions:

445

Posts:

13,721

Discussions:

507

Posts:

8,164

Discussions:

145

Posts:

2,597

Discussions:

72

Posts:

360